Fresh Tortillas Grill
11819 Metropolitan Ave, Jamaica, NY 11415
Order now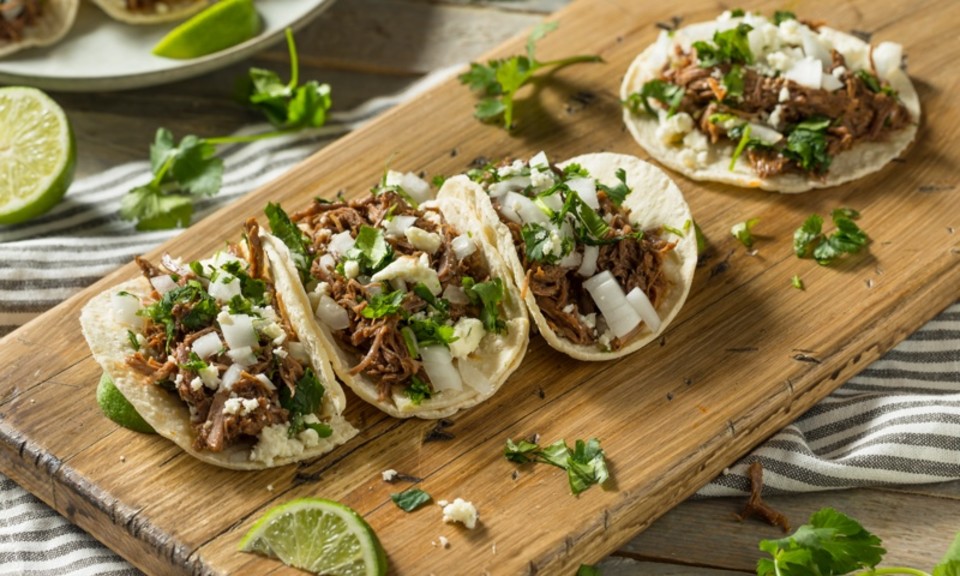 Michael
We love this style 'tex-mex' in our house, but it can be heavy and sort of disgusting, when you think about it. Normally, oily and poorly made. But then there's Fresh Tortillas Grill, which has become our absolute favorite. The meat is lean and tastes good, the tortillas always come warm and chewy, and their salsa is good. It is what it is, so don't expect authentic mexican, but as far as this type of food goes, Fresh Tortillas Grill is the best I've found so far. Soft chicken taco, enchiladas, or the combo that comes with rice are safe and delicious bets. Food comes really fast and always warm.
Jo
The food here is always top-notch and great quality. There is more authentic Mexican food out there, but these folks are really good at what they do. Their portions are generous and their prices are excellent. Delivery is always fast. They always get the order right. And I don't know what they do to their steak, chicken, and shrimp, but it's absolutely mouthwatering. Seriously delicious stuff happening here. A regular in my rotation.
Vladislav
I think this is probably the best tex mex place by Metro. The food is delicious, its clean, not greasy, or sloppy. There's a lot of Mexican food spots around here but they honestly aren't as good, the only other good spot that doesn't deliver to my house is Taco King. I've ordered twice from here already and it hasn't disappointed yet. The delivery was also ahead of the estimated time. I def recommended it.
Kristen
Best tex mex food I have ever had!!! I love this place so much that I would highly recommend it to everyone. They have the best burritos and nachos anyone could ever want. The food is always right and I'm time. Very friendly people as well. I will continue to order from here on out. I will never go anywhere else. Thanks fresh tortillas grill !!
Eric
the chips had a interesting and delicious flavor to them
the steak amount was huge
the tortillas some soft with crispy edges yummy
the guac was good too
the beans and salsa were good also
definitely ordering again
Laura
Absolutely delicious and fresh. My favorite is the Chicken Quesadilla--the chicken is fresh off the bone and delicious. My sister is vegan and whenever she visits she asks me to order their veggie burrito, she says its fantastic. I highly recommend the food. (That said, sometimes they skimp on the sour cream, only giving one when you ordered two quesadillas, so be sure to ask for it! They always give plenty of spicy red salsa.)
Aileen
We have FTG at least once a week. My 1.5 year old loves it, my husband and I love it, and the food is always good, always fast, and always delicious. We had a slight panic bc were moving to Kew Gardens, and was so excited to see they still deliver to us! Hooray!
Tasha
I love ordering from Fresh Tortillas and Grill. Order always comes fresh, hot and correct. Fast delivery with cordial employees. Food is yummy and good portions, I usually have leftovers for lunch the next day! My go to place to order.
Brittany
Always on time. Always delicious. And even great the next day. Quesadilla gigante with steak is my fave, and the black bean and jack quesadilla is great also. The guacamole nachos rock. Never had a bad meal from here.
Melanie
This place is good every time. We order weekly for game night. We have a vegetarian in the group and a few people with allergies and they have no problem accommodating everyone. Really excellent burritos.
About us
Chicken, Dinner, Grill, Lunch Specials, Mexican, Salads, Seafood, Steak
Today

Delivery: 12:00 PM - 7:45 PM

Takeout: 12:00 PM - 7:45 PM

Delivery

Monday:

12:00 PM - 7:45 PM

Tuesday:

12:00 PM - 7:45 PM

Wednesday:

12:00 PM - 7:45 PM

Thursday:

12:00 PM - 7:45 PM

Friday:

12:00 PM - 7:45 PM

Saturday:

12:00 PM - 7:45 PM

Sunday:

12:00 PM - 7:45 PM

Takeout

Monday:

12:00 PM - 7:45 PM

Tuesday:

12:00 PM - 7:45 PM

Wednesday:

12:00 PM - 7:45 PM

Thursday:

12:00 PM - 7:45 PM

Friday:

12:00 PM - 7:45 PM

Saturday:

12:00 PM - 7:45 PM

Sunday:

12:00 PM - 7:45 PM
Fresher than fresh and cheaper than you would think possible, Fresh Tortilla Grill is the perfect place to satisfy your Tex-Mex cravings. Featuring a full menu of all your favorites, Fresco is a great choice for lunch or dinner. For decades they have prepared food that is made fresh from only natural ingredients and the finest herbs and spices. They do not use any artificial spices, MSG or preservatives. After been reviewed by the Daily News, NY Times and Zagat for their delicious entrees, tacos, nachos and soups, Fresh Tortillas Grill is now available to deliver quality Tex-Mex right to your door.